Somai specializes in products and application systems that best match the growing needs in today's market. The company offers, for instance, pneumatic industrial vibrators that are tailored for the building industry.
Today, the company seeks to expand its range, by including electric vibrators that are specifically tailored for the production of machines that make precast.

With its ability to design and produce its items in-house, Somai's goal is to meet its client's most specific needs.
Indeed, Somai products are exclusively made and assembled in its locale, in Cisliano Italy.

As a result, each one of its motors complies with the most recent EU CE and Atex directives.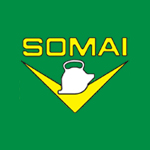 Somai is a company that specializes in the production of industrial vibrators and accessories destined for the building industry and precast concrete.
The Vibraxtion expertise
Whatever your feasibility study, Vibraxtion is committed to helping you with all your roller vibrator needs and giving you full satisfaction.
Vibraxtion is above all the preferred partner for integrators in charge of the strictest industrial applications;

Besides, Vibraxtion makes it possible for distributors to find Vibraxtion products that will fit the standards set by their customers;

And finally, Vibraxtion provides all users with its expertise in industrial roller vibrators to best address their needs.
Ref vibrators : VSPS – VSTX – VEM6 – VEP6 – VEMM – VEPM – SPT –  FP450
Brands : Somai