To this day, with over 20 years of expertise, Eurobivra has the most advanced conception techniques in the vibration industry.
This is why Eurovibra offers a range of high amplitude and frequency pneumatic industrial vibrators.

As a rule and according to the new international directives, all Eurovibra electric vibrators comply with the ATEX IEC EN 61241-0 et 61241-1 standards.

In this regard, each motor is certified and can be used safely in dusty and potentially flammable environments (Certification ATX II 3 D T5).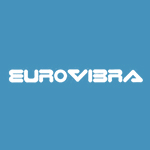 Eurovibra is known worldwide in the pneumatic sector for its eccentric weighted turbines, which have the widest vibratory amplitude on the market.
The Vibraxtion expertise
Whatever your feasibility study, Vibraxtion is committed to helping you with all your roller vibrator needs and giving you full satisfaction
Vibraxtion is above all the preferred partner for integrators in charge of the strictest industrial applications;

Besides, Vibraxtion makes it possible for distributors to find Vibraxtion products that will fit the standards set by their customers;

And finally, Vibraxtion provides all users with its expertise in industrial roller vibrators to best address their needs.
Ref vibrators : AC – VK – VT
Brands : Eurovibra