To this day, Tuxel has become a world benchmark for the dosage of problematic and potentially dangerous products.
Thanks to their instant start-up/shutdown function, Tuxel feeders can dose out bulk materials either continuously or instantly.

The Tuxel Electric Vibrators are designed to observe the highest performance, even under the most demanding applications.

Besides, their IP 67 (LEX) waterproof system, 100 % Stainless Steel parts and FDA coating comply with the latest requirements of your industry sector.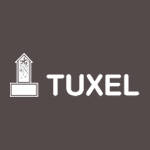 Tuxel offers electromagnetic vibrating feeders tailored for professionals of the agri-food, chemical and pharmacological industries.
The Vibraxtion expertise
Whatever your feasibility study, Vibraxtion is committed to helping you with all your roller vibrator needs and giving you full satisfaction.
Vibraxtion is above all the preferred partner for integrators in charge of the strictest industrial applications;

Besides, Vibraxtion makes it possible for distributors to find Vibraxtion products that will fit the standards set by their customers;

And finally, Vibraxtion provides all users with its expertise in industrial roller vibrators to best address their needs.
Ref vibrators : LEX – LEV
Brands :Tuxel