Screened material fragments are split into two or more batches, according to their size.
The fragments are placed on a holed tray or a grid. Smaller fragments fall through the holes, while bigger ones remain on the tray.
In theory, "to sieve" and "to screen" have slightly different meanings: "to sieve" is used for separating thin materials – less than a millimeter – while "to screen" is used for separating coarse materials. However, the term "to screen" is very often used in both cases.
This process can be applied to any set of particles. They may be from either mineral (aggregates or fragmented rocks), vegetable (grains, flours), natural or artificial origins (e.g. various manufactured items).
Screening of materials helps to:
separate the biggest fragments before they are reprocessed, in order to improve any insufficient fragmentation;
on the contrary, eliminate the thinest fractions that may interfere with the process or could be treated separately (e.g. conglomerations);
prepare the granulometric classes so as to meet specific business requirements (granulate, coal);
obtain a better efficiency for treatment processes related to physics (e.g. gravimetry) or physiochemistry (e.g. floating), by judiciously selecting the proper granulometric fraction.
Screening of bulk materials
A vibrating screen enables to calibrate bulk products: quarry granulates, food products, recycling.
Not unlike shake-out grids, it is composed of several overlapping tables, with perforations – or passage holes – of gradually digressing dimensions:
they are bigger on the table at the top, thinner on the one at the bottom. Since all tables are tilted, the oscillatory motion induced by an industrial vibrator sets the materials that need sorting in motion; the smaller ones fall on the grid at the bottom, and so on.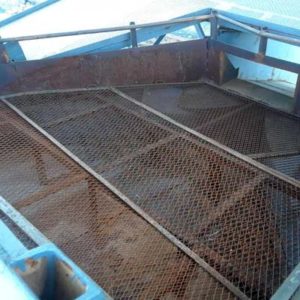 In that respect, materials are automatically evacuated at the end of the table, directly into their hopper or conveyor.
Vibrating screening allows to separate materials according to their granulometry with great precision.
To manufacture a screen, we mainly use 1000 or 1500 Tr vibrators (MVE / SPEX / SPV / SPX range).
The vibratory frequencies must remain low (13 to 25 Hz), so the amplitudes stay between 4 to 6 mm, depending on the product.
Feel free to contact us for further information regarding vibrating screens and shake-out grids (vibrating grids).
Our experts will be happy to help you create vibrating devices tailored to your needs!
We cover the needs of all industrialists worldwide even in the heavy industry with, for example, our partnership with the Mesto group.
Produits Vibraxtion