Conveying materials through vibrations optimizes the handling of bulk materials during transport, quantitative analysis and device feeding.
A vibratory feeder is a feeding tool that conveys matter from point A to point B in a horizontal or angled vibrating corridor, thanks to a unidirectional vibration.
This corridor can have the following shapes :
Tubular, in order to isolate matter from an outside environment;
Flat, a standard vibrating tray to convey matter;
Trough, to solve more complex handling operations.
Using a specific metallic trough offers precise sorting, calibration, orientation, setup and quantitative analysis during the driving motion.
To put it in a nutshell, the device comprises a corridor; its oscillatory motion is transmitted by a vibrator (electric, electromagnetic or pneumatic).
The vibrations must be isolated from the body by silentblocs, so that the vibrations do not disperse.
With a proper isolation, you can rely on a controlled vibratory transmission to insure a constant throughput.
Choosing a conveying system that suits your needs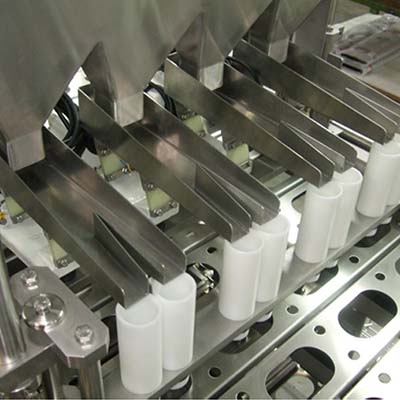 Not only should have a clear idea of what your application is, but you should also take into account the discharging process, the type of material you are using and the type of environment you're working in: those features are crucial to the conception of a vibratory conveyor.
Conveying is widely used in the industry, which is why we find so many different types of devices, each meeting very specific criteria.
Here are the main variables you should take into consideration when defining your needs:
Transfer distance and payload
Such factors are decisive in the heavy industry, where applications require corridors of over one meter long, with payloads that can go up to one ton.
In this case, because of the strong vibratory amplitude, it is necessary to use eccentric motors.
Continuous and intermittent operation
Because of their inertia, unbalance motors must be operated continuously. Should the application require an intermittent feeding power, motors must be of a pneumatic linear or electromagnetic type.
Due to their limited power, they cannot transmit vibrations beyond one meter. Thanks to their compact design, pneumatic vibrators can easily be integrated to already-existing installations.
Controlling a feeder with external tooling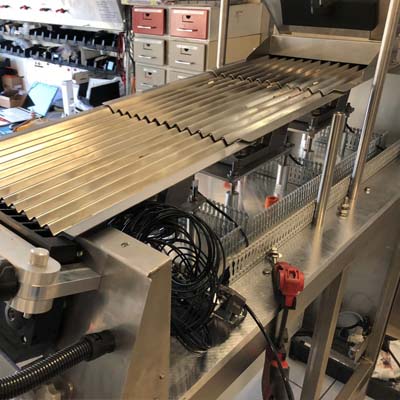 For numerous applications, the vibratory feeder needs to be controlled to ensure that the dosage is correct.
In the case of a pneumatic vibration, a solenoid valve controls the feeder.
Electromagnetic vibrators controlled by CV boards guarantee better results for doses that necessitate maximal precision.
Thanks to their high resistance to the network voltage variations, electromagnetic vibrators ensure a constant vibration so as not to compromise the downstream process of the device.
Defining the shape of the trough to convey matter
In closed environments, matter is mainly conveyed through tubes. Open air applications generally necessitate a vibrating tray or a trough.
The term "vibrating tray" is applicable, as its name suggests, to a planar vibrating surface that is integrated to a support frame. It is ideal for applications such as matter transfer through surge hoppers.
The term "trough", on the other hand, applies to all corridors with curved rims. However, "troughs" actually come in numerous shapes, tailored to the desired application.
Conveying of materials with specific troughs
PLANAR BOTTOM
Standard type.
Constant width.
Vertical or curved sides, according to what type of trough is needed.

Beveled edge
Adapted for powering a conveyor belt that's perpendicular to the trough of the device.

DECREASING WIDTH
Allows to assemble materials at offloading point.

TUBULAR
For airtight conveyors. Max. capacity: half a tube. Flow lower than with other types of troughs.

V-Shaped
Narrow and concentrated flow of materials at offloading point.

SEMICIRCULAR
Used in the conveying of light, curvy-shaped
parts. Also exists with lid.

Conveying of materials with tubular vibrating corridors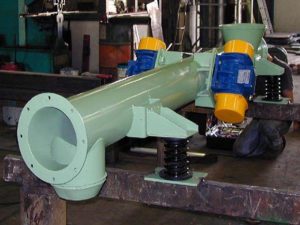 Vibrating corridors are ideal for conveying fragile products in a delicate and hygienic manner.
Ideal for hygienic and simple cleaning phases applications, as the product does not get in contact with mechanical parts.
All versions function the same way: a conveying tub with a vibrator attached, and four suspension points that isolate the conveying core from its structure.
Defining the amplitude and vibratory frequency to adjust discharging
The discharging flow of matter can be adjusted thanks to the angle of attack, the static moment and the vibratory frequency of the electric motors.
Angle of attack
The angle of attack for the line of force is determined according to the application type
Specific separators (e.g. milling industry)

Angle d'attaque 25° à 30°

Conveying, extraction, feeding, orientation and sorting

Angle d'attaque 31° à 45°

Sieving, calibration and separation

Angle d'attaque 45° à 80°

About the static moment
The static moment is inseparable from the vibratory amplitude required to determine the optimal troughput.
Depending on the type of matter and application, the static moment can be adapted to ensure that the matter is conveyed without getting an excessive amplitude.
It is indeed crucial that its vibratory amplitude is exclusively beneficial: maximum throughput, minimal disruptions, installations longevity.
Vibratory frequency
Vibratory frequency is a periodicity measured in terms of Hz. It allows matter throughput optimization by increasing or reducing the vibratory oscillation cycles of the device.
Vibratory frequencies of electric motors are generally comprised between 12.5 Hz and 50 Hz. This frequency is regulated using a converter of electric frequency (Hz).
Devices adapted to pneumatic linear motors can modify their vibratory frequency by regulating the pressure of air intake, measured in BAR. This frequency is generally comprised between 25 Hz and 100 Hz.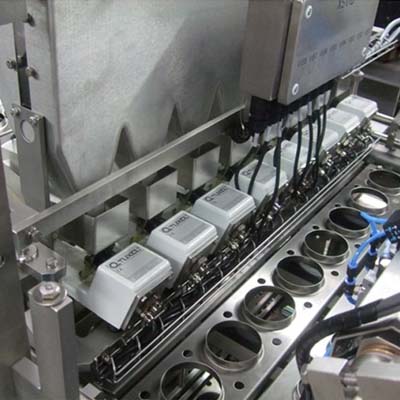 Electromagnetic motors have a frequency comprised between 50 Hz and 100 Hz.
However, the unique capacity of electromagnetic vibrators allows to directly take action on the electrical intensity that is applied to the electromagnet.
The baseplate's vibratory amplitude can thus easily be regulated: there is no need to adjust the frequencies to regulate its throughput.
This is the reason why this type of motor is often used for applications requiring precise quantitative analysis.
Conveying materials with Vibraxtion
Vibraxtion strongly focuses on its clients' needs. This is why, today, the company can now offer such a wide range of vibrators. In this way, Vibraxtion is able to accompany both integrators and end-users in their industrial processes all the way.
Contact our experts now to find out what vibrating motor best suits your application and your needs in industrial equipments.
Contact us today to receive technical advice on your current projects.
Produits Vibraxtion